Smooth show from Matchbox men...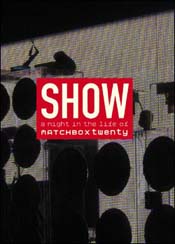 It is somewhat unjust that Matchbox Twenty are perhaps best known to UK audiences for their lead singer's dalliance with rock übermensch Carlos Santana. Rob Thomas lent his talents to Santana's massive selling 'Supernatural' album. It's fair to say the band have never captured a wider audience here although achieving massive sales in their homeland and some popularity in Australia and New Zealand.
This nicely-packaged DVD is therefore an excellent way to catch up with them, a double set based on their live performance in Atlanta in June 2003. The main disc is a well-shot, superior stadium rock concert and includes their best-known tunes and all but two off the 2002 album 'More Than You Think You Are'.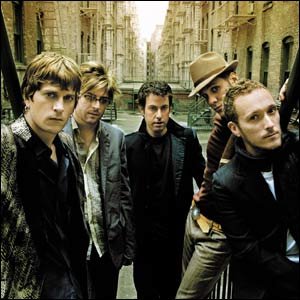 Photograph © 2004 Mark Seliger
The band can certainly pile on a good riff or two, such as 'Cold' and 'Feel' whilst 'Disease' (co-written with Mick Jagger) is the closest thing here to 'Smooth'.
Disc Two features the now almost mandatory backstage documentary. These episodes are really only of interest to the committed fan and whilst this is well produced it is somewhat formulaic. I mean, how many times do we need to learn about the logistics of putting on a stage show and the minutiae of stage lighting? In addition we get a photo gallery and song lyrics.
All told, this is a veritable Matchbox Twenty fest clocking in at nearly four hours and with enhanced surround sound technology. More than enough for the fan but a great introduction to the band for others.
Track Listing
1. Cold 2. Real World 3. All I Need 4. Soul 5. Disease 6. Could I Be You 7. 3 AM 8. Mad Season 9. Feel 10. Hand Me Down 11. If You're Gone 12. Bright Lights 13. Bent 14. Unwell 15.Back To Good 16. Downfall 17. You're So Cool 18. So Sad So Long 19. Long Day 20. Push
SPECIAL FEATURES
Documentary Footage (50 Minutes approx)
Behind The Scenes Photo Gallery
Easter Egg (4 Minutes approx)
2 Songs utilising Multi-Angle Technology
Artist website
****
Review by David Randall