MASTODON Blood Mountain Warner Bros/Relapse (2006)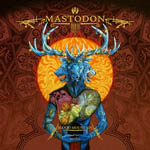 Have to say, I was really looking forward to this. I've been a fan since I first heard their debut ep, 'Lifesblood', 5 or so years ago. Mastodon have improved release after release, no mean feat when you consider how high they set the bar for themselves!
As much as I was looking forward to 'Blood Mountain', I was also a little apprehensive, I have to say I did wonder if they could keep up the quality, and if they'd change a great deal.
Well, the album is definitely different. It's obviously Mastodon, but there's also a massive progression on from 2004's 'Leviathan'. Many of the elements that made previous Mastodon recordings great are here, but there's so much more they've brought to it. It took me 5 or 6 listens to truly get what was going on here. There really is that much going on!
First track, 'The Wolf Is Loose', starts with some very Motorhead drumming then kicks into a nippy thrash style riff, and I have to say that I wasn't that impressed to start with, then mid way through up pops a Maiden style harmony that saves the song!! Second song, 'Crystal Skull' features Scott Kelly, from the gods Neurosis, and unsurprisingly it doesn't sound a million miles removed from Neurosis!
Other guests include Josh Homme of Kyuss/Queens of the Stone Age fame on Colony Of Birchmen (possibly my least favourite track, but by no means bad!), and also Cedric Bixler-Zavala and Isaiah Ikey Owens from the Mars Volta feature on 'Siberian Divide' and 'Pendulous Skin' respectively.
The whole album is extremely varied, this is particularly apparent in the first half . The vocals in particular show a massive degree of variation compared to previous releases. The melodic vocals of Brent have come on tremendously, his has become an awesome singer! 'Capillarian Crest' features mathcore riffs as well as latter day Death style twin harmonies in one song! And it flows fantastically well!
Mid point of the album is the frankly bonkers instrumental 'Bladecatcher', with has some really bizarre riffs and sound effects. After this track, I have to say, for me, the strongest songs are to be found.
Personal favourite is 'Hunters Of The Sky', which is both crushingly heavy and down tuned but also extremely melodic. 'Hand of Stone' comes over as a more aggressive mix of the mighty Black Sabbath with Thin Lizzy twin harmonies, which is a pretty impressive thing to pull off well, which they do with ease. But, to pick out individual songs is a big disservice to the album, it just works as a whole.
One thing that stands out once again is the amazing musicianship on the album, it's well known that Mastodon are brilliant musicians, but that they can put together such well crafted tunes just shows how talented they are. Don't even get me started on the drumming, absolutely jaw dropping!
On the first few listens, I came away slightly disappointed. But the more I listened to this, the more I fell in love with it! To the point where I am now obsessed with it. Though I do have to say I'm not sure how much staying power it has, I have the feeling that if I stop listening to it, I'll likely not come back for a while. But for now I absolutely love it. Every self respecting metal fan should buy it (no matter whether you like Doom, Death, Thrash, Traditional, Heavy, Progressive, Widdly) there's enough here for everyone provided you're patient with it. Awesome!
****
Review by Dom