Southern rockers not afraid to boldly go etc, etc...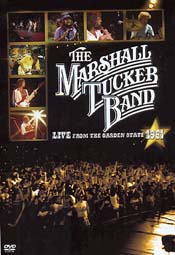 Iím not sure Iíve ever heard any MTB before inserting this DVD into my player. Sure Iíve heard the name - who hasnít, but name a track or style? No, that was beyond me.
And maybe the reason for that was that MTB never established a single recognisable style to call their own. They blended rock, country and jazz in a Southern style, but never rested on their laurels and no two of their releases sounded the same.
This particular concert was recorded for MTV in 1981 on their Dedicated tour - a tribute to founder member Tony Caldwell who had died in a car crash the previous year. And it opens like a humdinger with Take The Highway.
Close your eyes and it could be a cross between Man and Tull with guitar and flute trading lead licks. Its loose Ďní funky, these guys are kicking ass and clearly loving every minute of it.
Heard It In A Love song is soft country rock and clearly a crowd favourite, and Tell The Blues To Take The Night Off is a smouldering blues number with Gary Moore-like lead. And so it goes on for a full hour and a half, the band switching effortlessly from rock to blues to country.
And maybe that explains why MTB never made it big over here. This may have been recorded in 1981, but make no mistake this resurrects evocative memories of rock concerts from the 1970s when bands just took to the stage and werenít afraid to go where the music took them.
The DVD isnít big on extras - but we do get Which One Is Marshall Tucker - a 25-minute story of the band.
****
Review by Pete Whalley