MANDO DIAO Bring 'Em In (Mute Records) (2003)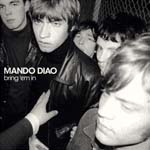 Sweden is a country which is renowned for the quality of it's music education. It's not surprising that some of the biggest rock acts came from this cold country. One of Sweden's latest music export is a band called Mando Diao. The five musicians (Gustaf Noren:Rhythm Guitar/Lead Vocals, Bjorn Dixgard:Lead Guitar/Lead Vocals, Daniel Haglund:Organ/Percussion, Samuel Giers:Drums/Percussion and Carl-Johan Fogelklou:Electric Guitar) decided that in order to succeed they should leave everything behind and focus on their song writing - and so they did.
After nearly six months of hard work they presented their Debut effort called "Bring'em In" - a title which reflects the band's attitude. The influences are plenty and different but if you need to categorize them you could say that their style is Bluesy Rock n' roll with punk attitude. "Bring 'em in" was recorded in a basement on a garage-sale gear.
The opening track "Sheepdog" is a furious rock n' roll song and the same applies for the following track "Sweet Ride", a song that came straight from the heart of the 60's."Motown Blood" is a bluesy song with a live feeling. Things seem to cool down a bit with "Mr Moon" which is (in my opinion) the best song of the CD.A really good solo accompanied by Dixgard's passionate voice which reminded me of Jim Morisson (Doors).
The parade of the influences from the 60's continues with "The Band" and "To China with Love"(my second favourite song)."Pralysed", "P.U.S.A", "Little boy Jr" and "Lady" continue in the same level, and then it's the same title song "Bring 'em in" with a catchy riff that reminded me of Ted Nugent in his first two albums. Last but not least "Lauren's Cathedral" a low tempo song accompanied by a nice organ melody - a really nice way to close an album.
"Bring 'em in" is the debut CD from a promising young band. All we have to see is what their next step will be - I wish them all the best.
***
Review by John Stefanis