MAMMOTH Larger And Live
(Angel Air SJPCD141) (2003)

Built around the novel idea of having heavy musicians playing heavy music, they released one full studio album and had single success with Fatman. This release contains six live tracks from a Radio One road show in Prestatyn in 1987 (with the legendary DJ Tommy Vance compering) plus songs that would have made a second album had there ever been one released. Built around bass player John McCoy (ex-Gillan) and vocalist Nicky Moore (Samson), they used a fair few musicians including fellow ex-Gillan member Bernie Torme, who appears on one track here.

The live tracks show Moore in great form he has bluesy voice (his Samson era work is a must in any rock fans collection) and can really belt out when needed, including the catchy Fatman (there is also a demo version of this track on here on well). Other live highlights include the AOR of Thirty Pieces Of Silver and the radio friendly rock of Always And Forever.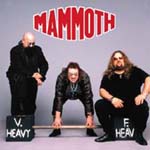 Of the unreleased tracks, pick of the bunch are the ballad Working For The Man (complete with tabla!), the catchy AOR of Catcher in the Rye and All The Days and finally mid-tempo rocker Cant Take The Hurt (which appeared on the movie Nightmare On Elm Street 5).
Worth a listen just to here what could have been with their second album had it ever seen the light of day. Despite the fat gimmick there was good tunes and music in the band and its a shame they never carried on. In Moore and McCoy they had a strong writing partnership and produced some classic AOR/melodic rock tunes, not unlike latter day Slade at times. Nicely packaged with informative sleeve notes from Record Collectors Joe Geesin.
***
Review by Jason Ritchie