MAIA SHARP 'Fine Upstanding Citizen' Koch Records (2005)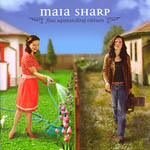 Fine Upstanding Citizen is singer/songwriter Maia's 3rd album. And you'll probably find her filed under 'Country'. But despite the Nashville connections (the album was recorded there and her father is long standing Country musician Randy Sharp) this is more aor/pop/rock. Perhaps not surprising given she grew up in California listening to the likes of Jackson Browne, Joni Mitchell and Rickie Lee Jones.
In fact, you've probably heard Maia's music before and not realised it. She's about to tour the States supporting Bonnie Raitt and penned three songs on Bonnie's recent Souls Alike album. A Home was used by The Dixie Chicks as the title track of their last album and her songs have been recorded by Cher, Art Garfunkel, Lisa Loeb, Paul Carrack and more. She's also toured and/or written with Carole King, Richard Thompson, Patty Griffin and Dar Williams. Exalted company.
So what Fine Upstanding Citizen? Red Dress, which opens the album, is a catchy number that would be hailed as a re-discovery of form if recorded by Alanis Morissette. Something Wild – a Stateside hit - has a wonderfully powerful and hypnotic drumbeat with a Judie Tzuke type vocal and thunderous chorus. It is absolutely stunning. Maia's own version of A Home is almost unrecognisable from the Chicks rendition, having a much more west coast CSN feel to it.
The Reminder is another excellent mid tempo number. Regular Jane has a chorus to die for. Flood add a dash of roots. Kinder Blues – the longest number here at just over 5 minutes is another stand out track. It has a wondrous bassline, delicate piano and a smoky delivery. Eat your heart out Sade.
Firefly is another rhythmic number. Wisdom, the oldest track is mid 90's aor. Come Back To Me a piano ballad. Fall Like Marguerite is enchanting. Fine Upstanding Citizen a bizarre jazz mix.
Fine Upstanding Citizen incorporates a diverse range of styles covering an 8-year writing period from 1996 – 2003 with Maia playing acoustic and electric guitars, piano and sax. Its an eclectic mix and while no album's perfect, if you're into female singer/songwriters such as Shawn Colvin, Sarah McLachlan and the like then add Maia Sharp to the list. There are moments of magic here.
****
Review by Pete Whalley