THE MAGIC NUMBERS The Magic Numbers Heavenly/EMI (2006)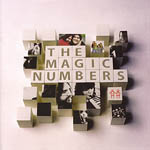 I've seen mixed reviews for this flabtastic foursome's debut. But there seems to be no middle ground – the best thing since pizza delivery or the worst thing calorie counting.
The Magic Numbers are Romeo and Michelle Stodart (Romeo's the one built like a grizzly and lead vocalist, Michelle plays bass, keyboard and percussion and supplies vocals) and Sean (drums and vocals) and Angela (percussion and vocals) Gannon. And between them they've captured the essence of the sixties harmony vocal groups (Mammas and Pappas) and repackaged it for the 21st century.
In essence, its clean-cut, wholesome stuff – clean crisp vocals and beautiful harmonies over an uncluttered accompaniment. That might sound simple, but exposing every note to scrutiny isn't that easy. And they've built up quite a word of mouth following (the album's gone platinum and is well on the way to half a million sales) so they must be doing something right.
Mornings Eleven opens the album – it's an up-tempo, jaunty number with a beautiful sixties harmony mid section. Forever Lost follows - another lovely number with another infectious chorus that brings The Beautiful South to mind. The Mule takes you on a gentle trip.
Long Legs starts with the sound of a needle hitting vinyl, it's another up-tempo harmony number. Love Me Like You opens with a Suffragette City riff – it's an obvious single choice. Which Way To Happy brings Paul Simon to mind. I See You, You See Me is the longest track on the album, the fourth single and probably the finest track here – an absolutely beautiful ballad with aching vocals and harmonies.
Coming in at half the length at a mere 3 minutes, Don't Give Up the Fight adds a touch of funk (in the mildest possible sense) and is another quality number. This Love starts with flamenco guitar before descending into a melancholy ode complete with strings. Wheels On Fire is not a cover of the Julie Driscoll number and is one of the weaker tracks. But Love's A Game is yet another classy number – lovely guitar and the trademark Magic vocals.
Try closes the album with an acappella intro, but watch out for the bonus track 'hidden' about three and a half minutes after the run-out of the final listed track.
The Magic Numbers is a bit like a huge bag of cookies. Every track is a gem - dip in and it's mouth-watering, but scoff the lot at one sitting and you could feel a little queasy.
****
Review by Pete Whalley
***** Out of this world | **** Pretty damn fine |
*** OK, approach with caution unless you are a fan |
** Instant bargain bin fodder | * Ugly. Just ugly
get ready to rock is a division of hotdigitsnewmedia group
Why should I buy this CD?
Great songs, great vocals. The Magic Numbers may not get your rocks off, but there's no disputing the beauty of some of what's on offer here.
Burn baby burn
Forever Lost
Love Me Like You
I See You, You See Me
Don't Give Up The Fight