Next progsters most likely to...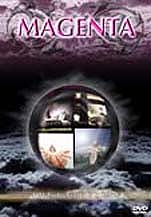 A two hour concert shot before an invited audience this DVD gives a snapshot of why Magenta are one of the best progressive bands around at the moment. Their musicianship is top draw and with vocalist Christina they have a secret weapon as she has a very melodic yet strong voice.
Much, much better than all these high pitched squealers fronting some prog metal bands of late! Highlights include 'Gluttony' from their latest release 'Seven' and 'The White Witch' which features stunning keys and guitar interplay, all woven together by the wonderful vocals of Christina.
Extras include a promo video for 'Broken', interviews with Rob Reed and Christina. Of less interest (unless of course you were there!) are shots of fans entering the gig, although the interviews with fans after the gig are interesting but maybe not something you watch again many times.
Overall a very accomplished package, with very good sound and picture quality. An ideal addition to any music fan's DVD collection and don't be put off by the 'prog rock' tag.
****½
Review by Jason Ritchie
Track Listing: King Of The Skies / Gluttony / Demons / Broken / Children Of The Sun / Overture / Genetesis / Call Me / I'm Alive / The White Witch / Pride (encore)