MAGELLAN 'Impossible Figures' (Inside Out IOMCD144) (2003)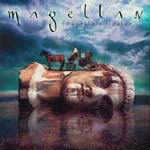 The fifth studio album by this US band formed around the brothers' Trent and Wayne Gardner. Prior to this I had only heard the band's debut album, 'Hour of Restoration' that still gets a play now and then. The band cleverly mixes a variety of styles from classically tinged pieces through to epic workouts and heavy riffing material.
Kansas fans will delight in 'Hymn For A Heathen' with its pomp styled keyboards and layered harmony vocals. 'Feel the Cross' takes a distorted vocal and adds some discordant guitar lines. This track grows on you as after a first listen I was ready to press the skip button! 'A World Groove' does as it says opening with some world music sampling and heading into Yes territory circa 'Big Generator'. It works well and is an album highlight. The ten minute epic 'Killer of Hope' has all the prog ingredients and Magellan manage to combine classic 70's sounds with modern production and guitar passages. The band are clearly musicians of the highest calibre but more importantly they know how to craft a melody, something that often lacks in many epic tracks by other artists.
Magellan have produced another fine album that should appeal not just to fans of progressive music but a much wider rock audience, especially people willing to expand their musical tastes. Now all we need now are some tour dates!
****
Review by Jason Ritchie
Counterpoints
© 2003 Magellan/Inside Out All rights reserved.


£12.99
***** Out of this world | **** Pretty damn fine |
*** OK, approach with caution unless you are a fan |
** Instant bargain bin fodder | * Ugly. Just ugly