MADNESS 'Divine Madness'
EMI Sight & Sound CDV2905 (CD/DVD) (2005)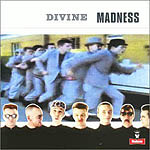 The nutty boys from Madness were a constant fixture on radio and TV between 1979 and 1986 when they notched up an amazing twenty one Top 20 hits including 'classics' such as It Must Be Love, Baggy Trousers, Our House and many, many more.
And they're all here on this re-release of their 24 tracks digitally mastered 1992 'greatest hits' collection. What makes this special (apart from the budget price) is that it's a 'sight and sound' package. That means you get a twenty eight track DVD thrown in featuring all the videos! All 24 tracks from the CD feature, plus four additional tracks – Bed And Breakfast Man, Sweetest Girl, I Pronounce You and Drip Fed Fred - presumably omitted from the CD due to lack of running space.
The CD is great listening, but it's the added DVD which is the real bonus. Madness weren't known as the nutty boys for nothing and there's plenty of madness in the videos and the links between them. It's fun to re-live them, and while it wouldn't be something you'd want to watch repeatedly, the videos have aged well and habe acquired a certain reminiscent charm.
As extras on the DVD, you get an optional commentary by Carl Smyth and Chris Foreman, Drip Fed Fred featuring Ian Dury, a mad interactive Madness quiz, and a Madness Gallery.
It's pointless trying to articulate everything that's on offer here. All you need to know is that this is an ideal stocking filler for the nutty boy (or girl) in your life. Divine – absolutely. Madness – you bet. Fun – more than you could possibly hope for. ****
****
Review by Pete Whalley