MAD MAX Night Of White Rock AOR Heaven 00020 (2006)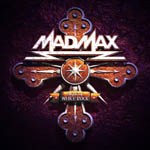 Formed originally in the mid 80s, Mad Max have reformed a couple of times, with singer Michael Voss having worked on various projects, including five albums with Silver.
Hard and in your face guitars from Jurgen Breforth feature some occasionally catchy riffs. Trouble is that they are so bright. Itís like playing hard AOR without keyboards, and the guitars try to make up for it.
Itís not Vossís best work. Itís good on the surface, but not special enough to return to.
And 'Unbelievable' could be a Bon Jovi ballad. Even with the soppy piano, the guitars remain as bright.
'Sun' goes someway to remedy the situation, but itís not quite enough.
**½
Review by Joe Geesin
Upon My Soul
© 2005 AOR Heaven. All rights reserved.