MAD MARGRITT Straight Through The Heart (2005)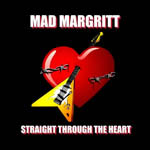 When I close my eyes it's 1987, the horrors of grunge are far away, I'm doing a bad Axl impersonation on the dance floor, and the spandex clad ladies love me.
But it's 2005 and despite the sheer delight that is the latest album from the dreadfully monikered Mad Margritt, grey hairs are starting to appear and my shimmying days are far behind me.
Which must be really galling for a band who know how to craft a set of delightful melodic pop / metal anthems with a hint of sleaze. Vocalist Eddie Smith has a touch of the Bachs about him, and a lot of the material would fit snugly on to the first Skid Row album.
If the world was a righteous place "One Look In Your Eyes" would be the big radio hit, "Goodbye" the lighter in the air anthem second single for the ladies, and "In The Name Of Rock" the Twisted Sister like fist punching live anthem. I'm quite depressed now, when I remember how good the rawk used to be.
Just to make me weep even more, there's a cover of the Babys "Midnight Rendezvous". Don't be put off by the name, this is an essential buy for lovers of eighties big haired rock.
****
Review by Stuart A.Hamilton
Related>> Album review