M3
Rough An' Ready (Classic Pictures)(2005)
The world before 1984...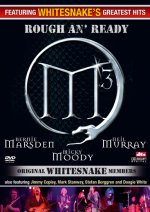 This live DVD was recorded on the band's 2004 UK tour. M3 feature three ex-Whitesnake members - guitarists Bernie Marsden and Micky Moody with bass player Neil Murray. Magnum's Mark Stanway provides keyboards and Jimmy Copley (Paul Rodgers) bangs the drums. Two vocalists share the songs on here, Steffan Berggren (ex-Company of Snakes) and Doogie White (ex-Rainbow).
All the classic pre-1984 Whitesnake tunes are here like 'Hit An' Run', 'Trouble' and the proper, hair free version of 'Here I Go Again'. The version of 'Slow An' Easy' is worth the admission price alone!
Steffen and Doogie handle the tunes well with Steffen uncannily like David Coverdale in sound at times. Both Moody and Marsden get solo spots of which Moody's edges it in the enjoyment stakes for the glorious sound of a slide guitar.
The bonus material sees Moody and Marsden performing an acoustic set that features amongst others 'Child Of Babylon' plus their memories of the early days of the and their first meeting with Mr Coverdale.
An extremely enjoyable DVD and one that fans of classic Whitesnake will love. Just a shame that Coverdale won't join forces again with Moody/Marsden/Murray for one 'last hurrah'.
****
Review by Jason Ritchie
***** Out of this world | **** Pretty damn fine |
*** OK, approach with caution unless you are a fan |
** Instant bargain bin fodder | * Ugly. Just ugly