LYNYRD SKYNYRD The Vicious Cycle Tour
Castle CMFVD1328 (2006)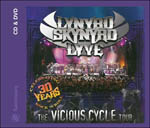 Recorded as a thirtieth anniversary celebration back in 2003, this double CD and DVD is an essential purchase for all Lynyrd Skynyrd fans. And while all of the material is familiar to long time fans this stylish production - featuring no less than 19 musicians - certainly does justice to the Skynyrd legacy that this year has finally been inducted into the Rock & Roll Hall of Fame.
And it is history we are talking about here. The American marketing guru that came up with the term 'Heritage Rock', has given enduring bands the passport to longevity. And Lynyrd Skynyrd have grasped that opportunity with both hands.
Founder members guitarist Garry Rossington and keyboard player Billy Powell remain from the original band while superb guitarist Ricky Medlocke was originally a drummer in the band, leaving before their original success and returning to the ranks twice. And it is he who stars throughout this three decade trawl through the back catalogue in the company of a magnificent string and horn section and two back up singers.
In short the band has clearly spent some time on their arrangements to try and breathe fresh life into a classic rock back catalogue. And on the evidence of the wide ranging age mix of their Nashville audience, they have succeeded in carrying the brand name to a new generation.
If as with many ground breaking bands Skynyrd's early years were their best, then it is interesting to note that the old footage of the original band played on a huge overhead DVD screen finds the late Jimmy Van Zant and his pals playing to a smaller crowd than the one here to celebrate the band 30 years on.
The technology is used cleverly even allowing Johnny and his late brother Jimmy on screen to swap verses on 'Travelling Man'.
There are undoubted worrying moments of clichéd cabaret, especially on the in-between number ramblings of Johnny Van Zant - especially in his preamble before 'That Smell'.
On the Johnny and Donnie Van Zant penned red neck anthem 'Red White and Blue' the accompanying overhead footage comes close to a republican style PR campaign. Yet Skynyrd were always the champion of the blue colour workers and songs like 'Simple Man', 'The Ballad of Curtis Loew' and of course 'Sweet Home Alabama' remain classics of that oeuvre.
The playing is superb throughout with the three guitar attack being everything fans would expect, but Ricky Medlocke excels on slide and an array of guitars climaxing the show by pulling the tremolo arm from his guitar.
Former Outlaws guitarist Hughie Thomasson (now back in that band) adds his own steely licks, while the anchor man Gary Rossington combines some studiously understated solos with overt product placement on his scratch plate.
Given this is a celebration of 30 years of Skynyrd, the real bonus lies in the fact that numbers such 'Tuesday's Gone' are given their best ever outing as the strings sweep in behind Gary's guitar and Steve Traums' sweet toned harp.
For any band to survive 30 years is testament to both the power of their music and their resilience. Lynyrd Skynyrd has now shifted an estimated 26 million units, and this album/DVD will undoubtly add to those figures.
****
Review by Pete Feenstra