LYNYRD SKYNYRD Gimme Back My Bullets
Universal Remaster 2-Disc set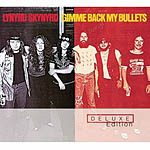 This classic southern rock album sees its 30th anniversary, and is remastered to coincide with the band's induction to the hall of fame.
The opening title track is whiskey-soaked hard blues rock at its best, while 'Every Mother's Son' is more acoustic. Both Skynyrd at their best, recorded in 1976, a year before the tragic plane accident that killed various members of the band, including singer Ronnie Van Zant.
It's also a breath of fresh air compared to the current line-up who play a far more AOR blend.
The opening guitar on 'Trust' is reminiscent of 'Sweet Home Alabama'; far from Skynyrd's best but a great album all the same.
Bonus tracks include live versions recorded between March '76 and November the previous year, while the bonus disc is a DVD of a 1975 BBC OGWT performance, featuring the epic 'Freebird' amongst others.
A fitting and well packaged tribute.
****
Review by Joe Geesin
Related>>Book review