LYNYRD SKYNYRD 'Lyve' Sanctuary (2004)
Another month, another live Lynyrd Skynyrd album or so it seems. The band have had a second life since reforming back in the 80's and unlike some other bands of the 70's they still put out fine studio albums (their latest 'The Vicious Circle' can hold it's own against the band's 70's output).
Now reduced to only two original members - Gary Rossington and Billy Powell (although ex-Blackfoot mainman Ricky Medlocke was the band's drummer in their early years), some would argue they should rename the band or call it a day but not say I! Whilst they still have the fire live (they literally blew Deep Purple off the Wembley Arena stage last year) and can still write a good tune or two, long may they continue.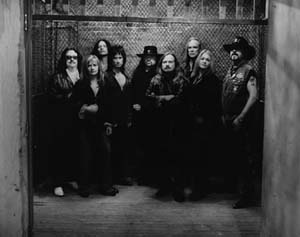 Few surprises here then on this double CD set with crowd favourites like 'Free Bird', 'Call Me The Breeze' and 'Simple Man' all present and correct. The band perform a medley as well that includes 'Ballad of Curtis Lowe', 'Gimme Back My Bullets' and 'Tuesday's Gone'. The band's recent US hit single 'Red, White & Blue' gets a heartfelt rendition here and just proves that the band has some life in them yet song writing wise.
Crystal clear production throughout, with Johnny Van Zant regularly reminding the crowd that the concert is being recorded. For Skynyrd fans it will sit nicely in your collection and a good starting place for new fans after the band live, their natural environment.
****
Review by Jason Ritchie