LYNCH MOB Revolution (Mascot Records 2003)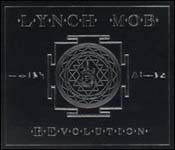 Covering songs from well known artists is a "move" that many bands make at some point in their career. How often do you see an artist making covers of his own songs?
George Lynch (one of the founding members of Dokken) decided to create a collection of old songs, but thankfully he did it the right way! With his old mate Robert Mason back on vocals (first sang on the second Lynch Mob album), Anthony Esposito (Bass) and Michael "Fro" Frowein on the drums he went to studio and re-recorded some classic Dokken and personal songs. The result is really good!
George's idea was to create a new feeling for each and every song. I really enjoyed the new sound of classic Dokken songs like "Tooth and Nail", "Breaking the Chains" and "Kiss of Death". Robert Mason is not Don Dokken (don't think that he needs to be either) but he is a charismatic vocalist who gave the Dokken songs all the respect they deserved. I think that it's pointless to try to describe George's performance, the guy is a living legend. Always with aces up his sleeve. The rhythm section is doing a great job too and in many cases increased the dynamics of the songs. A classic example is the new version of "Wicked Sensation" - really impressive. The production of the album is the result of the collaboration between Dave Reed, Ron Ruthledge & George Lynch.
The album consists of 13 songs that made George Lynch well known all over the world. My personal favourites will be "Tooth and Nail", "All i want", "Cold is the Heart" and "Wicked Sensation".
For all of you who are not acquainted with his work, this is a good way of being introduced to this Guitar Hero's world. For all of you who follow George's career the last 23 years it's a must have!
****
Review by John Stefanis