LUMINOS 'Seize The Day' Market Square MSMCD115 (2003)

There are times when a contemporary rock band looks back to their genre's forefathers but genuinely fashions a sound that is their own. Bands like Karnataka and Mostly Autumn come to mind. Luminos are hot on the trail.

A four-piece from Essex, there is certainly nothing wrong with the quality of the musicianship on display, and there is a maturity in both presentation and style. This is perhaps important for a new band trying to establish their voice in a genre that is currently a tad over-crowded.

The album starts and finishes well enough. 'Inner Self' is an upbeat acoustic-based song punctuated by genre-typical guitar chiming that brings to mind Jadis or IQ whilst 'Always In My Heart' has a good finish.

A greater use of keyboards, and even sax (which features on the widescreen 'The Voyage') may have done more to bolster prog-rock cred and maybe this is an aspect that could be nurtured on the 'difficult' second album. Vocalist Anni Meegan is also under-utilised, although she adds an Annie Wilson/Haslam-sheen to 'A Small Boy, A Bird In History'.

Altogether, this is a strong debut and should go down well when played live.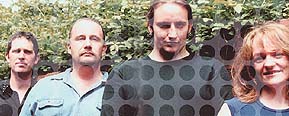 Website
***
Review by James Rutherford

A Small Boy, A Bird In History
© 2003 Luminos/Market Square Records. All rights reserved.