LUCINDA SIEGER Silver Life Voiceprint (2006)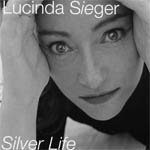 Thankfully, Glasgow born singer-songwriter Lucinda Sieger has come along since she picked up her first guitar made out of a Weetabix box and elastic bands.
Silver Life is, in fact eight tracks spread over 36 minutes and based around 4 re-mixes taken from her last outing - Heart In the Sky.
Having previously worked with members of Leftfield and Bronski beat, Lucinda is - believe it or not - a cult figure in Japan thanks to her Sunset Red single, has shown up on Swedish TV, and been the 'voice' on the number one UK dance track 40 Miles.
The featured remixes are by world music maestros Temple Of Sound, Slipper and David White. Any the wiser? No, me neither.
The album opens with the ambient beats of How Many Must It Rain, shimmering guitars, Lucinda's gorgeous vocals and a lovely chorus. It soothes and caresses. Now Here We Are has a gentle Parisian feel and Silver Life (co-written with guitarist Reid Savage) adds a touch of soul.
Elsewhere, on Bread Lucinda combines with Winston Blissett (Robbie Williams and Massive Attack) for a jazz-lite performance par excellence.
Hollywood raises the tempo with a pseudo dance number; the remix of Adore adds a samba Latin rhythm and some lovely guitar work, while the remix of I Had A Dream pulses with a hypnotic dance beat. The final track is another more percussive version of Adore.
Also included is an mpeg movie for the forthcoming single Hollywood.
****
Review by Pete Whalley

Silver Life
© 2006 Lucinda Sieger. All rights reserved.