LOVERBOY Loverboy/Get Lucky
BGO Records (2006)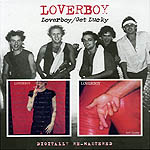 The Canadian melodic rocker's first two albums, originally released in 1980 and 1981, get re-issued and re-mastered onto one disc.
Their debut album shows some of classic melodic rock they would later record like 'The Kid Is Hot Tonight' and 'Turn Me Loose' but there are many tracks that sound very dated now like the cheesy synths on 'Lady of the 80's'.
But the follow-up album 'Get Lucky' is a melodic rock classic CD for any collection. From the off 'Working For the Weekend' (with its neat cowbell intro!) is a radio friendly rocker, coupled with 'When It's Over' and 'Take Me to the Top' you have some timeless tunes.
The band still tour today (although sadly minus bassist Scott Smith who drowned in a yachting accident back in 2000) and vocalist Mike Reno appears on various classic rock vocalist shows although no new album on the horizon as yet. A must for the 80's rock collection without a doubt.
****
Review by Jason Ritchie