LIZ PHAIR 'Somebody's Miracle'
Capitol B000AV2G2O (2005)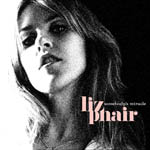 Liz Phair is a name you've probably seen in the margins and bargain bins for years and years. Somebody's Miracle is actually not half bad.
It has a familiar 'feel' – somewhere between Sheryl Crow and Alanis Morissette – and the vocals remind me of someone but I'm buggered if I can think who. It could be a Peppercorn. Yes, I think it is (check out the GRTR review of her Free Love album - another excellent album most often spotted in back street emporiums). Somebody's Miracle has a not dissimilar feel.
Once upon a time Liz Phair was one the angry angst brigade of female singer songwriters. But no longer. Her self titled 2003 album was a watershed step towards the pop / rock mainstream and Somebody's Miracle continues the transformation. Check out the opener Leap Of Innocence and Giving It All To You which are two top notch numbers that would grace any album.
The only problem is that it's a crowded marketplace for female singer songwriters and you've got to be something special to stand out from the crowd for more than a brief appearance in the spotlight. But Somebody's Miracle is a varied enough album that improves with every listen.
That said, it's unlikely to impact this side of the pond, but it could just be the album to raise Liz's status stateside to premier league status. Well worth checking out if female singer songwriters are your bag. And especially if you happen see it in the bargain racks. ***
***
Review by Pete Whalley
***** Out of this world | **** Pretty damn fine |
*** OK, approach with caution unless you are a fan |
** Instant bargain bin fodder | * Ugly. Just ugly
get ready to rock is a division of hotdigitsnewmedia group