LIVING THINGS Black Skies In Broad Daylight
(Dreamworks 986 220-1) (2004)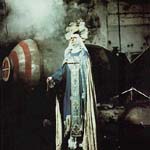 Itís been quite a while since Rock ní Roll gave birth to itís last "dangerous" band. Some said it was Guns ní Roses, others said Nirvana or even Oasis. Being a dangerous band though is not only about having an attitude, destroying your equipment on stage and making your tour managers life a living hell. Rock n íRoll is a weapon - a weapon which can allow artists to stand up and speak their minds.
Living Things is a "family" band from Saint Louis/USA that consists of three brothers: Lillian, Eve and Bosh Berlin. Their love for The Ramones, Nirvana, Iggy Pop but also their need to speak their minds over important and delicate issues such as war, corruption censorship and drugs, led to the recordings of the bandís debut album "Black Skies in Broad Daylight" through Dreamworks Records.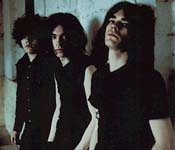 Living Things are basically one of those bands that youíre either going to love or hate. I have to admit that I wasnít particularly impressed after listening to this for the very first time, only the first track "Bombs Below" made a small impression to me.
I believe, though, that when it comes to music you need to be in the right mood in order to accept and understand some bands. After deciding to give this album another chance, I found myself getting hooked with this band. Itís not the kind of band that will bring a huge change in Rock ní Roll music. It is a group of three people who had fun recording this album, and wrote really good heavy Rock níRoll songs like "I Owe" (also the bandís first single), "Bombs Below" and "No New Jesus".
If you have space in your record collection, and you like The Ramones and Jesus and Mary Chain, you should give this band a chance. You will not be disappointed.

I Owe
© 2004 Living Things/Dreamworks. All rights reserved.
***
Review by John Stefanis