LITTLE RIVER BAND Test Of Time
The Store For Music SFMCD033 (2005)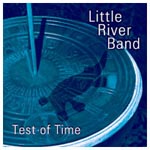 The Little River Band has been through a myriad of line-up changes and the line-up on this album consists of Stephen Housden: lead guitar, Wayne Nelson: bass and lead vocals, Greg Hind: guitar and vocals, Kevin Murphy: drums and vocals, Glenn Reither: keyboards and sax.
Of this line-up Housden and Nelson are the longest serving members. If you've ever sampled the delights of this band I would heartily recommend you do so especially if you enjoy harmony filled tunes from the likes of the Eagles and CSNY.
This new album sees all the trademark harmonies still in place and songs like opener 'The Long Goodbye' and 'Hold On' are a joy to hear. My only gripe is the lack of an uptempo rocker along the lines of 'Playing To Win' as this would have really added some variety and pace to the album overall.
Good to see a classic band sticking to what they do best and producing an album that stands up against their impressive back catalogue. Now, how about a UK tour!
***½
Review by Jason Ritchie

The Long Goodbye
© 2005 The Store For Music. All rights reserved.