LISA MISKOVSKY 'Fallingwater' Universal Music (2005)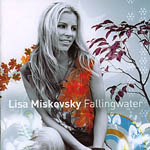 Lisa Miskovsky. Make a note of the name. This girl has it all.
A platinum artist in her native Sweden, Lisa Miskovsky's Fallingwater has sold in excess of 100,000 copies there. Lisa wrote all album tracks, plays guitars, fender rhodes and organ. She also plays drums (but not on the album), plays women's premier league hockey and was a contender for the women's national snowboard team. And then there's her Swedish good looks. That's one hell of a curriculum vitae.
So the million dollar 'jack of all trades, master of none' question is – can a woman this good looking and multi talented possibly deliver a 'classic' album? Well, I'll put you out of your misery – on the evidence of Fallingwater the answer is an emphatic 'yes'.
Lisa is a label mate of The Cardigans (Long Gone Before Midnight which was surely one of the best albums of 2003) and whether it's a label or Swede 'thing', there are similarities. Not to detract from Lisa's own song writing and style of delivery, she bears a more than worthy comparison to a number of industry 'heavyweights'. A Brand New Day has a wonderful West Coast 'hood down' feel of Fleetwood Mac meets The Cardigans. Sing To Me could be Pat Benatar at her melodic best. You Dance Just Like Me, Sweet Dreams and Restless Heart are Aimee Mann like ballads. Take Me By The Hand is vaguely reminiscent of Sheryl Crow. And there's shades of Debbie Harry scattered here and there.
Other highlights include Midnight Sun a wonderfully rhythmic and uptempo guitar based number, and Butterfly Man an achingly beautiful piano based ballad with haunting chorus.
Inspired by a Frank Lloyd Wright drawing, Fallingwater even earned a Swedish grammy for producer Joakim Berg. Frankly, pop/rock doesn't come much more adult or perfect than this.
*****
Review by Pete Whalley
A Brand New Day
© 2005 Universal. All rights reserved.