LINDA LEWIS Live in Old Smokey Market Square MSMCD141 (2006)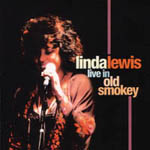 Linda who? Some with long recall will remember Linda Lewis the pint-sized vocalist with a rather wide vocal range who had chart success in the seventies with her lively blend of pop soul. She was also well known and respected as a session singer for the likes of David Bowie (appearing on the album Alladin Sane) and Cat Stevens.
Linda released a string of albums in the seventies and has continued to work solidly ever since, if not quite recapturing her chart status, and proverbially big in Japan.
This 2004 concert at Ronnie Scott's is an excellent update, it includes some of her best-known tunes (such as For Love's Sake, Rock A Doodle Do) and some excellent recent compositions, (I Don't Do Don't, Waving) which veer towards pop-soul to jazz.
I have to own up, I actually bought Linda's single 'Sideway Shuffle' which I recall received a fair bit of airplay on Jazz FM when it was released in the mid-1990's . It's included here and places Linda in Chaka Khan territory, to good effect.
Elsewhere, she recalls the late Minnie Ripperton, but with guitar and pen in hand she also presaged a new age of female singer songwriters. This excellent live set is a fitting memory jogger and reminder of her abundant talents.
****
Review by David Randall

Waving
© 2006 Linda Lewis/Market Square Records. All rights reserved.