LINCHPIN 'Jesus Had Long Hair' EP (2005)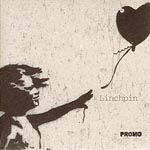 It would be easy to be sceptical of a quote of 'awesome' by Dave Grohl and 'these boys rock' by Good Charlotte. Especially when directed at a new four piece 'boy band' from South London.
But guess what? It's true! Linchpin – Joey, Olle, Paul and Mike - have come up with a debut ep with serious potential.
Produced by Queens Of The Stone Age's Richard Flack and Good Charlotte's Benji and Joel Madden the ep blends the commerciality of Busted with the power of the Foo Fighters and the attitude of The Beastie Boys.
In particular, Jesus Had Long Hair rocks like a bitch, is as infectious as a dose of the clap, and is as commercial as hell. I kid you not, a potent mix.
If Linchpin can come up with an album's worth of this quality of material (and the other tracks Take All You Can, Crazy Girl and Wanna Wanna suggest that's entirely possible) then the big stage beckons.
*****
Review by Pete Whalley