LIBBY JOHNSON Annabella Wrong Records (2006)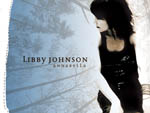 Coming in at a fraction over 36 minutes, singer songwriter Libby Johnson's debut album Annabella is a relatively brief affair of 10 tracks. Libby, who was previously in the critically acclaimed New York band 22 Brides (with her sister Carrie) plays piano, acoustic and some slide, and is ably accompanied on this solo outing by Steve Jordan (drums), Jack Daly (bass) and Mark Bosch (guitars).
The album opens in style with Don't Mean You Lost Your Love a gentle folk, rock tinged number that wouldn't be out of place in a Cowboy Junkies set. The title track brings a blues rooted groove to the table, with Libby's throaty vocals the result of an onset of laryngitis. It works.
Bombs Away is a Tom Petty type soft rock workout, and there's a couple of piano led ballads (Under The Gate and Another Life) which sound like something Carly Simon and Aimee Mann might aspire to.
Good To Go is another stand out track with some lovely vocals and a great hook. Think Jewel / Shawn Colvin, Undone – a snapshot of life coming apart is another highlight.
MiLa Vie adds acoustic delta blues guitar to the mix, while Rain has an almost Lou Reed / Stones soft rock groove. And finally this eclectic little album is wrapped up with a Every Broken Curve - a gentle folk / country number.
On first listen I thought that Libby Johnson was just another in the long list of female singer songwriter wannabees. But there's enough of substance here to suggest that Libby Johnson could soon become a household name.
***½
Review by Pete Whalley
Don't Mean You Lost Your Love
© 2006 Wrong Records. All rights reserved.
***** Out of this world | **** Pretty damn fine |
*** OK, approach with caution unless you are a fan |
** Instant bargain bin fodder | * Ugly. Just ugly
get ready to rock is a division of hotdigitsnewmedia group
Why should I buy this CD?
For those who like their singer songwriters female and of the Aimee Mann school of rock.
Burn baby burn
Don't Mean You Lost Your Love, Annabella, Good To Go, Undone, Rain