LEYA Watch You Don't Take Off
Rubyworks (2005)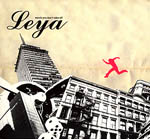 At the Brits 2006 Chris Martin announced that we won't be seeing Coldplay for a few years. While it wasn't entirely clear what he meant, if they're intending on taking a sabbatical, Leya could well be the band to step into the breach.
Leya are one of the hottest new bands in Ireland having been voted Ireland's Most Promising Band in a recent pole. And let's face it; the Emerald Isle has been the home of some of the brightest talent we've ever seen – Thin Lizzy, U2, Eleanor McEvoy, Rory Gallagher, Van The Man. And there's a common thread – passion.
And that's something Leya have in spades – they're an impassioned mix of U2, Coldplay, Keane and Starsailor. Their debut Watch This Space has already spawned a well-received download only single – The Dream The Money Bought and two Eps – All On The Black and On All My Sundays. All charted top 40 in Ireland and all feature on the album.
Let's Pretend - a sprawling number opens with breathy Bono-esque vocals before exploding and into a Coldplay groove with the vocals moving into Starsailor territory. It's an excellent start and lays down a blue print for most of what follows.
For the most part the album is keyboard dominated with some evocative, and consistently excellent vocals from Ciaran Gribbin. Most tracks start in a low-key mood before exploding or building steadily into soft rock that will appeal to any self-respecting fan of the aforementioned bands. Only The Dream The Money Brought beaks the mold with the guitar turned up to eleven and a real rock 'edge' supplemented by vocals that have an almost Depeche Mode feel.
But if you're someone who likes the occasional dalliance with pop/rock of a melodic persuasion, then Leya are well worth a punt.
***½
Review by Pete Whalley
***** Out of this world | **** Pretty damn fine |
*** OK, approach with caution unless you are a fan |
** Instant bargain bin fodder | * Ugly. Just ugly
get ready to rock is a division of hotdigitsnewmedia group
Why should I buy this CD?

Expansive melodic rock that should be on the shopping list of any self respecting fan of the Keane, Starsailor or Coldplay school of rock.
Burn baby burn
Let's Pretend
On All My Sundays
Again
The Dream The Money Bought