LEVEL 42 'The River Sessions '
River Records RIVERCD052 (2005)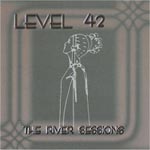 Now here's a question for you. Does anyone ever play a Level 42 album? In retrospect, Level 42 can be considered 'of their time'. For a period in the eighties, they had a string of successful singles and albums featuring their trademark pop funk with Mike Lindup's falsetto contrasting with Mark King's chattering bass.
This September 1983 gig recorded by Radio Clyde at Glasgow Locarno captures the band in particularly good form and at the start of their major period of success. Consequently, like many of these River releases, it fills an important part of the band's recorded history.
Although there was the 1985 'A Physical Presence' album only a few tracks (mainly the singles) are duplicated here, and we do get the spontaneity of a complete live gig rather than a series of spliced tracks. And with this excellent release we get it spread across 2 CDs.
Now, if you're wondering why on earth we are reviewing pop-funk here at GRTR! let me put you right. Before stadium success beckoned and arguably got in the way, Level 42 were a damn fine band.
Their second album 'The Pursuit Of Accidents' was produced by blues rock veteran Mike Vernon (John Mayall, Fleetwood Mac etc) who knows a thing or two about quality and musicianship.
Third album 'Standing In The Light' was produced by funk heavyweights Larry Dunn and Verdine White of Earth, Wind & Fire and was heavily featured in this Scottish gig.
In addition to Mark King and Lindup, the band featured the Gould brothers Boon and Phil. And, as this live set demonstrates, Boon had an essentially rock approach on guitar. By the time of 1996's stadium funk 'Live At Wembley' album, both Gould brothers had left and with that any unbridled rock input.
The music ranges from exemplary instrumental funk workouts ('Heathrow','Sandstorm','43' and encore '88') to sublime singles ('Love Games') and the slower-burn tracks ('I Want Eyes', 'Eyes Waterfalling') they did so well.
In truth, Lindup's high notes did grate a bit after a time, but there's no denying his talent on keyboards and Mark King was always the driving force - literally - with a jazzy vocal delivery and unique syncopated bass technique.
It was probably these elements that make some of Level 42's output sound a little of it's time and by the time the band called it a day in 1996, Mark King's slap-happy bass was almost becoming parody and one of the band's original USP's had disappeared. In short, the world had moved on.
Nevertheless, there is no doubt that Level 42 set toes tapping with their essentially funky approach, and this live piece demonstrates they still can twenty years later. This double-CD is an excellent summary of a band on the verge of greater things.
****
Review by David Randall

The Sun Goes Down
© 2005 River Records. All rights reserved.