Good gig, portly pierrot, lo-fi audio...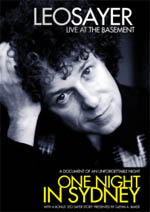 Recorded in 2001 this DVD sees Leo playing to a packed crowd at The Basement - Sydney's legendary intimate music venue. It coincides with the release of a greatest hits CD - Leo Sayer At His Very Best.
There are those who may think that a basement on a continent on the far side of the planet is the best place for this one time pierrot to be. But let's not be too harsh. How many of us have a vinyl copy of The Very Best Of Leo Sayer gathering dust in their attic?
There must be a few of us because in 1979 it managed to hold Thin Lizzy's Black Rose from the number one spot in the album charts. And in his brief spell in the spotlight between 1972 and the mid 1980's Leo Sayer's star burned brightly - hit after hit on both sides of the Atlantic, grammy awards and his own TV show. An impressive CV.
But by the late 80's Leo was out of contract and his career in freefall - which leads us neatly to a basement on a far-flung continent. A little more portly than we once remembered we find Leo in rude health and with a great backing band. The Basement is indeed an intimate venue, and this career retrospective gig is actually pretty fine.
It was apparently broadcast live on the web, and thereby hangs the rub - the mix is appalling. Which is a damn shame because it's a truly wonderful performance by the little man. The songs are great, the band is superb and so is Leo, but it just sounds like it was recorded on a cassette recorder with a cunningly concealed mic.
On this level of performance, you wonder just why Leo's star has waned in recent decades. His songs have stood the test of time; he's still a great performer. And on the strength of this dvd he'd be well worth travelling to see. But for the sound quality this could have been a ***** review. A wasted opportunity. Now, where's that vinyl?
***
Review by Pete Whalley