Zeppelin deconstructed...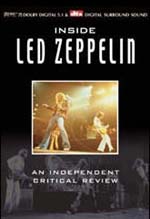 It says on the can this is an independent critical review featuring live archive footage previously unavailable on DVD. And it comes from the Classic Rock stable. Sounds pretty mouth watering eh?
Well letís get a few facts straight first. One thing itís definitely not is critical. What we have here is a group of die-hard Zep-heads who, 30 years after the event find themselves in the in, or affiliated to, the music industry - rock journos in the main.
Nothing wrong with that - everyone has to make a living - but you do get the impression that most here like the sound of their own voice and thought it would be a damn good idea to put a DVD together fawning over Zepís legendary first four albums.
And to be fair, it's not a bad attempt. Thereís some excellent footage and itís a nicely put together package (clearly made with a TV slot in mind, running as it does for 55 minutes). But just as youíre getting into the groove - generally after about 5 seconds of classic footage - up pops another aging rocker telling you how fantastic Plant was, what a brilliant drummer Bonham was, how John Paul Jones held it all together and how no one before or since has played a Gibson like Page.
Which is a shame. Because given the obvious access to footage it would have been nice to see a little more of Zep in full uninterrupted flow and a few more external reference points putting the releases into more historical context. But the footage does remind you just how stunning Zeppelin were live (see, Iím at it now!).
So we donít learn anything new (although Les Davidsonís deconstructing of Plantís licks on an acoustic is brilliant) but itís well worth the admission price and is a useful reminder to dust down the back catalogue and dig out the official Led Zeppelin DVD once more.
As weíre reminded several times Ďthey were the best heavy metal band there ever wasí. I think I might take exception with that - were Zep really ever heavy metal? I have my doubts. But thereís no argument they were one of the finest rock bands ever to grace the stage. And thereís no doubt the first 4 albums were classic rock.
***
Review by Pete Whalley