Good gig and sound for eclectic Scousers ...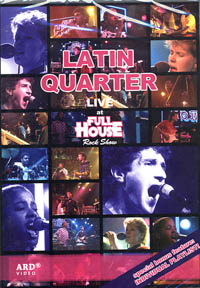 Rock House was a TV rock show broadcast on German TV between 1986 and 1989. Recorded in Hamburg and Hanover, it caught international bands in a live environment using its own light system, five cameras and crane.
One of the recordings that has survived is this 1986 performance by Liverpool based Latin Quarter. Although only broadcast in mono, the DVD includes the original stereo soundtrack together with a new 5.1 surround sound mix.
The concert is also released in its entirety and not the edited TV version. As a bonus is a band interview with the Full House presenter Alan Bangs.
Latin Quarter were an eight piece band formed in Liverpool in 1983 from a diverse melting pot of cultures which gave rise to their unique brand of rock, reggae, dance and ballads. 1986 found them at their peak following the release of their excellent debut album Modern Times. It included memorable tracks such as No Ordinary Return, New Millionaires and the classic single Radio Africa. All feature on this DVD. In fact, the whole album comes in for an airing.
It may be 20 years old, but the quality on offer here - in every way - is top notch. The gig is nicely shot, the sound quality is immaculate and the playing excellent. Every member of the band is on top form and gets their share of the spotlight. You can hear every note from every instrument. Itís a great sound and one that would bear repeated viewings / listening - full of class and subtlety.
Admittedly this DVD will only have limited appeal, but if youíve ever had any Latin Quarter in your collection then you wonít be disappointed by taking a punt on this great little DVD.
****
Review by Pete Whalley