LA GUNS 'Live Ammo' Mausoleum 251050(2004)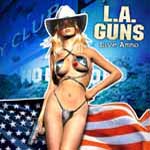 Big Hair metal gone mental. Most should be acquainted with the trials and tribulations of this band. They reformed in the late 90s and recorded this set on Sunset Boulevard, Hollywood in 1999. It was released the following year in the US, and at last gets a European release.
The music is, unlike the studio albums, raw, gritty, honest and down to earth. But they remain tight throughout and vocalist Phil Lewis (who first found fame in the Bernie Torme Band) handles the band and enthusiastic crowd very well.
Guitarist Tracii Guns is also on form, and the band has always centred around him. As usual many of the songs have sexual connotations; the teenage attitude to lyrics never waning.
14 tracks running at very nearly an hour, this contains all the hits and shits you'll need from this band. And if you missed this album first time round, now's your chance.
****
Review by Joe Geesin
Related>> Album review


£12.99