KREATOR 'Enemy Of God' (SPV) (2005)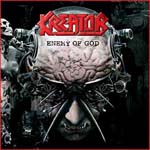 When you are member of one of the most important Thrash Metal bands in the world and your latest effort, "Violent Revolution" is hailed as one of the most important releases ever, you have quite a heavy burden on your shoulders. It just so happens though that Mille Petrozza, the band's frontman, and the rest of the guys in Kreator are not only aware of that, but have also proven that they are more than capable of outdoing themselves with each and every release.
It has been three years since the release of "Violent Revolution", during which the band travelled to every corner of the planet, playing live for their very devoted fans. In between concerts and while most of his colleagues were enjoying short moments of rest, Mille's mind was busy planning his next studio release.
It has also been quite a long time since Kreator have enjoyed a steady line up, but this time things seem to have worked in the band's favour. Jurgen "Ventor" Reil, the only other surviving member of the band's original line up, is once again sitting behind the band's drum kit. Ventor is without any doubt one of the best Thrash Metal drummers ever, and also a very important figure in the band.
Sami Yli-Sirniö is one of the best things that ever happened to Kreator. Mille has worked with many good guitarists in the past, but I think that in Sami he found his alter ego. The Finnish axeman may seem like the quiet type on stage, but when he lays his hands on the six-string...beware! Finally, Christian "Speesy"Giesler: a very solid bass player who seems to have blended very well with both Ventor, and the rest of the band.
These are the musicians that accompanied Mille to Nottingham/England, where they met the well-known musician/producer Andy Sneap (ex-Sabbat). In the recording rooms of the Backstage Studios, Kreator did not just record the successor of "Violent Revolution", but also one of the best albums in their career - "Enemy of God".
I have often wondered where Mille draws his inspiration from in order to record such powerful and intense albums, but then you only have to open your TV and watch the news in order to get your answer. Unfortunately, there are many bad things happening in this world as we speak, most of which are treated with apathy by the masses.
That's where Mille steps in and with a flamboyant Jackson in his hands, and a very "unlucky" microphone close to his mouth, begins his "demonstration" with songs like "Enemy of God" and "Impossible Brutality".
Oh my God! The glorious days of "Extreme Aggression" and "Coma of Souls" are back! Classic, fast Kreator riffs fill the air, and it is quite obvious that the days of experimentation of "Renewal" and "Endorama" are dead and buried (not that I ever had any objection to these releases!). Kreator are angry, and "Enemy of God" is the weapon that they used in order to express that exact feeling.
For the hour after I pushed the play button, I enjoyed the company of twelve amazing, equally well arranged compositions, and believe me - that doesn't happen that often.
I was a bit surprised by the guitar theme of "Murder Fantasies" and the Swedish scent that it carries, but only until I found out that it was the contribution of Mike Amott (Arch Enemy) - a riff that fits like a glove with the whole spirit of the album. The last song, "The Ancient Plague, is an Epic Thrash Metal composition that almost brought tears to my eyes, and the best way to finish such an important release!
Do not ask me to choose from any of the twelve compositions of this album for my favourite - I am very happy to announce that this would be an impossible task. The band has decided that "Impossible Brutality" should be the video for the album, but believe me that every song in this album is capable of representing the band's latest release.
When other Thrash Metal giants like Slayer and Sepultura are enjoying publicity based on their past releases, Kreator have the balls to go to the studio and record albums like "Enemy of God". What you have here is not another album that "had to be recorded", but a Thrash Metal classic!
This is by far one of the best Thrash Metal releases ever, and a strong kick in the a** for those who think that they play Heavy Metal. I really don't know if there is a title such as "Kings of Thrash", but if it does exist, it belongs to Kreator. Ladies and Gentlemen...please bow down!
*****
Review by John Stefanis