KORN See You On The Other Side Virgin (2005)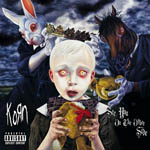 Korn are not a band I usually have a lot of time for to be honest as their past music has sounded very 'samey' but this one is certainly worth a listen.
Korn certainly know how to mix in crunching riffery with hi-tech sampling and the vocals of Jonathan Davis.
The single 'Twisted Transistor' gets things off to a fine start (check out the video if you get a chance as well). Elsewhere the band veers into almost a ballad with 'Love Song' with 'Politics' sure to please their hardcore fans with its barbed lyrics and pummelling backbeat.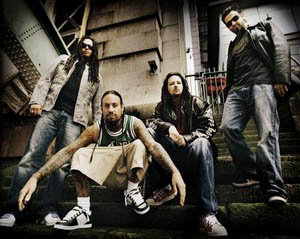 I also like the way they use bizarre sampling like the sound of strangled bagpipes that pop-up on more than one occasion in the album.
But I am not so keen when Davis uses his babbling vocals to bulk out a song (sounds like the Muppets' Animal having a fit!).
I would urge you to give this a try if you have dismissed the band previously as a bunch of nu metal clones as you would be missing a pretty decent album.
You can't fault the musicianship and Davis has his own unique vocal style which comes into its own on the quieter, more melodic songs (now there's a word I would never have associated with the band - melodic). Go on, give it a try!
***½
Review by Jason Ritchie
***** Out of this world | **** Pretty damn fine |
*** OK, approach with caution unless you are a fan |
** Instant bargain bin fodder | * Ugly. Just ugly
get ready to rock is a division of hotdigitsnewmedia group