KOKOMO To Be Cool Hux Records HUX058 (2004)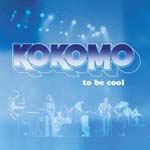 Kokomo was an unlikely meeting of musicians in the early seventies. From the Grease Band, sometime backers of Sheffield's finest rocker Joe Cocker, came guitarist Neil Hubbard and bass player Alan Spenner, from the pop group Arrival, no less than three vocalists Dyan Birch, Frank Collins and Paddy McHugh. Arrival vocalist/keyboards player Tony O'Malley and drummer Terry Stannard, super saxman Mel Collins and ace guitarist Jim Mullen completed the line-up.
The band sit alongside contemporaries Average White Band as purveyors of solid blue-eyed funk and this album has been salvaged from a late-74 rehearsal tape. It is loose and very 'live'. Arguably, it captures the band in better shape than on their studio output. Shamefully, for a band that was highly touted in the live arena, there was no official live album so this almost fits the bill.
The songs are almost all covers from Bill Withers 'Friend Of Mine' to Bobby Womack's 'I Can't Understand It', and there's a particularly funky version of Herbie Hancock's 'Chameleon' which is probably worth the admission price alone.
It's hard to see a great market for this, but what it does is raise the flag again for a funky and forgotten band . And, if it has listeners searching out the band's three studio albums that's no bad thing either.
***
Review by David Randall

Yes We Can Can
© 2004 Alan Toussaint/Hux Records Ltd. All rights reserved.