KMFDM WWIII (Sanctuary Records) (2003)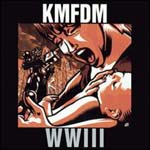 KMFDM are veterans of the Industrial-Rock scene. "WWIII" is the bands 15th release, the first with Sanctuary records. The mind behind the band, Sacha Konietzko (Bass/Synths/Vocals) is deeply influenced by the current global political situation and created a 11 track album full of energy and contempt to the way our "great leaders" make their decisions for the fate of humanity. His "partners in crime": Andy (Drums), Jules (Guitar/Programming), Cheryl Wilson (Vocals), Lucia Cifarelli (Vocals) and Raymond Watts (Vocals) helped him put all his crazy ideas in order.
There is a combination of hard guitar riffs and well programmed drum parts presented in this CD, something I understood after being half way through the opening track "WWIII". "From Here On Out" follows on with it's interesting female vocals and a catchy bass tune. "Blackball" reminded me of Nine Inch Nails with the dark lyrics and programming taking the lead. The friends of Marylin Mason will enjoy songs like "Pity for the Pious", "Stars and Stripes" and "Moron".
Sacha was also the person who handled the duties of the producer, mainly because the band wanted to avoid any "outsiders" altering their vision.. I think that it's really unnecessary to explain the lyrical context of this album. Strong lyrics with Punk attitude written from a person who grew up in Germany during the Cold War and experienced terrorism first hand. KMFDM are taking things very seriously and are not willing to compromise with anything. The only exception are the lyrics of the last track "Intro" with a huge dose of self sarcasm.
Sacha Kontzienko said that the band's albums have a slightly prophetic angle - let's hope that time will prove him wrong for everyone's sake.
***
Review by John Stefanis