Mr Simmons other job...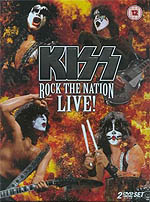 It's been a while since the release of Kiss Symphony in 2003, so this release comes as a god send to all Kiss fans out there waiting for something from their heroes. This once again is a great package; over 2 hours of non stop Kiss magic, live classics, dressing room interviews, rehersals, soundchecks and low key gigs.
The main concert was filmed over two nights on the Rock The Nation Tour 2004 in Washington D.C. and Virginia Beach and is Kiss in full blown bombastic brilliance. What maked this DVD a great watch is the fact that rather than play the same set list as the Symphony DVD, with the tried and tested classic, Kiss roll out some absolute belters from over the years. Makin Love, Christine Sixteen, She, Tears Are Falling, Got To Choose, Love Her All I Can, I Want You, Parasite, War Machine, God Gave Rock & Roll To You and in place of God Of Thunder, Gene Simmons carries out his theatrical Bass solo then plays Unholy, which works brilliantly. Best song on the DVD has to be the classic 100,000 years, pure rock & roll heaven.
The live concert also features KISS POWERVISION, where on selected tracks you can watch just one member of the band all the way through a song, Stanley & Simmons are great entertainment dancing and prowling around the stage and teasing the ladies in the Audience.
The bonus stuff is great, soundchecks, interviews, photo sessions and also a track from the low key theatre shows they played in Australia, no pyros, no gimmicks, just Kiss kickin ass, Goin Blind from the underappreciated album The Elder is played here and I only hope this whole gig was recorded for a latter release in this small venue.
This is the first release since the make up went back on without founder member Peter Criss, but Eric Singer takes over the job and you donít notice the join.
Get yourself a copy today and Rock & Roll All Night!
****
Review by Mark 'Mad Dan' McCafferty