Into The Void With Ace Frehley
Wendy Moore (Pitbull Publishing, 2005)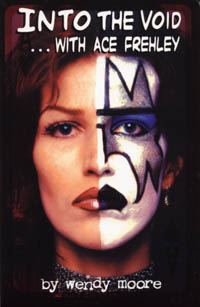 For any Kiss fan a book offering access into the private life of their favourite member is a tricky prospect - whereas they are well known for the make up, the theatrics and the great music, it would need to be one hell of a good book to deflect from that.
Maybe if Wendy Moore had used a co-writer the results might have been different, however, at times the book comes across like it was written by a teenager obsessed with their favourite pop idol.
Most of the 'insights' into Ace's private life seem like a case of 'I did this, I did that' or revenge-gaining tactics. There is also a lot in the book about Wendy's life, Wendy's band, and Wendy's addiction to heroin.
There is also the Smash Hits-like 'Aces Profile' - favourite film, favourite type of women, favourite actor etc.
At times bitter and jealous, at other times embarrassing, this book is probably best a-Voided (forgive the pun!!) by true Kiss fans.
*
Review by Nikk Gunns