KINGS X Ogre Tones Inside Out(2005)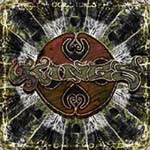 It's been many years since I last listend to King's X. Their first three albums for me are absolute killer, I think it as the Dogman album, with it's heavy, almost grunge sound that put the nail in my King's X coffin.
The subsequent albums that followed did nothing to regain my confidence and I pretty much haven't bothered with them for about ten years.
With Jerry Gaskill's recent solo album, refuelling my interest in King's X, I hoped that it would be a pleasure to re-aquaint myself with an old friend.
With the first notes of, 'Alone', 'Orge Tones' sounded as fresh and as exciting as I remember those first three albums. It's hard to believe that this is King's X thirteenth album, they've been around a long time and are not content to rest on their laurels.
If you've heard King's X before, you know what to expect, quality hard rock, mixed with some glorious melodies fused with elements of psychedelia and hints of prog rock. Add to that some of the best vocal harmonies around, you have a winning formula!
Its really nice to discover and old favourite and a band that are veterans to still be making some great music. The modern production courtesy of famed metal man, Michael Wagner, gives the album a breath of fresh air.
Thirteen songs, some long, some not lasting not more than a couple of minutes, not a moment of filler.
A welcome return to form of one of rock's great under achievers.
*****
Review by Graham Boyle