KILLING JOKE What's THIS For/ Revelations/Ha! Killing Joke Live/Killing Joke
EMI (2005)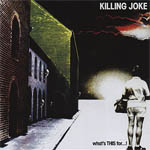 The first four albums from perennial industrial angst merchants Killing Joke have been remastered for your pleasure. As with most re- masters there are remixes and bonus tracks included with these releases.
There is enough extra meat on these bones to make it worth the purchase for an existing KJ fan. Fans of industrial and art-rock should probably own these albums already. If you want a nice beginner taster get "Ha! Killing Joke Live" which has their choices up until that point including the truly awesome 'Wardance'.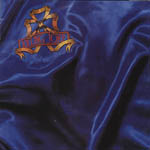 Led by chief nutter Jaz Coleman this lot produce accessible angry angst on a collosal scale with massive variety from dub to metal. We get tracks that forshadow Manson and the rest of the goth industrial movement. You know you want them so just go get 'em.
****½
Review by Marty Dodge
Requiem
© 2005 EMI. All rights reserved.
***** Out of this world | **** Pretty damn fine |
*** OK, approach with caution unless you are a fan |
** Instant bargain bin fodder | * Ugly. Just ugly