KIERAN DOCHERTY 'Expectations'
River Records RIVERCD059 (2005)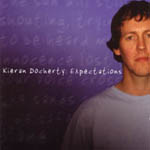 Glasgow based Kieran is yet another good-looking young gun with an acoustic, looking to woo the fairer sex. Naturally, singer-songwriters are his influence Ė those such as Roddy Frame, Paddy McAloon, Neil Finn, Nick Drake, Damien Rice and Ryan Adams to name but a few.
Having started off playing coffee shops, Kieran has progressed over 3 years to supporting James Grant (ex Love and Money) at a 2005 sell out Glasgow date.
Expectations has an almost Moodies feel, The Difference and How Hard have an almost Beautiful South approach to vocal delivery. But unlike The Beautiful South thereís no real hooks that would make you want to press the repeat button. Brown To Blue and Fall From Grace do at least up the tempo.
Expectations is a pleasant album, but it just sort of washes over you Ė one track sounding much like the one before and the one after. Itís nicely played and put together and Kieranís vocals are warm and soothing. But one suspects that Expectations doesnít quite have what it takes to make the big league.
***
Review by Pete Whalley
Expectations
© 2005 River Records. All rights reserved.
***** Out of this world | **** Pretty damn fine |
*** OK, approach with caution unless you are a fan |
** Instant bargain bin fodder | * Ugly. Just ugly
get ready to rock is a division of hotdigitsnewmedia group
Why should I buy this CD?

If you like a man with an acoustic and arenít too fussy.
Burn baby burn

Expectations
Fall From Grace