KEN HENSLEY Elements - Anrthology 1968-2005
Castle CMQDD1162 (2006)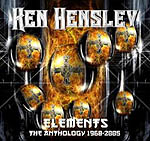 Although mainly associated with Uriah Heep, this multi-instrumentalist has had a long and varied career. This well annotated double set covers a touch of everything (almost) and features an interview with Hensley in the sleevenotes.
The album kicks off with 'Looking Glass' by The Gods, a psychedelic blues track, and a band that at one time featured Greg Lake and Mick Taylor.
Head Machine's 'Climax' follows and is more whimsical pop in comparison. Toe Fat's 'Working Nights' is rockier and shows the influence Hensley brought to Uriah Heep. Very proto and amateurish in comparison though.
Disc 1 is then completed by 15 Uriah Heep classics. If you're not familiar with 'Lady In Black', the uptempo rocker 'Look At Yourself' and 'The Wizard' then you should be and this is your chance. In fact I'd rate 'Look At Yourself' as essential listening. Hard organ grinding driving hard rock at its best. Hensley's keyboards augmenting Mick Box's guitar well.
Disc 2 spotlights Hensley's solo material with 14 tracks from his 70s / 80s solo albums. Some good songs, some good tunes, but the emphasis is on the songs rather than an energetic performance and few of the track grab you like the better Uriah Heep songs do. Some great work, but not necessarily his best. 'Fortune' is kinda Pink Floyd-ish.
Amongst some other odds and sods is a track by southern rockers Blackfoot, whom Hensley joined for an album. Sadly nothing by Wasp. Yes he played with Wasp! Including the excellent if by numbers cover of Heep's 'Easy Livin'' and the superb Headless Children album.
That said, it's a good album, some great tracks and a damn good collection and introduction.
****
Review by Joe Geesin
---
| | |
| --- | --- |
| | Print this page in printer-friendly format |
| | Tell a friend about this page |