KEITH MOON Two Sides Of The Moon (Expanded Edition) Castle/Sanctuary (2006)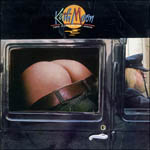 Legendary Who drummer / professional wildman of rock Keith Moon only ever issued the one solo album, and it's presented here in a very expanded form with every extra you could imagine, and then some.
The album was not critically acclaimed at the time, kind of passed over, and seems to have picked up far more acclaim in recent years. Moon would guest on other people's albums regularly, and this set features contributions from Ronnie Wood, Ringo Star, David Bowie, Joe Walsh and a host of others.
And the alcohol bill was legendarily as high as the length of the sessions.
And it's not a serious album, it certainly didn't fit in with the era (1975) on its release, and was just Moon having some fun with fellow friends and musicians.
Opener 'Crazy Like A Fox' is a good rocker, a hint of glam, one of the few to fit in at the time, while 'Solid Gold' is more retro with a Python humour. 'Don't Worry Baby' is more typical of the album in being late 50s/early 60s rock'n'roll / R'n'B, and wouldn't have sounded out of place on the Greece soundtrack. 'One Night Stand' adds a country flavour too. 'Move Over Ms L' mixes saxophone with rock'n'roll piano, a great number.
The original 10 track LP is expanded to 25 tracks on disc 1, with 3 album outtakes, the original 1974 US single, 7 Mal Evans mixes and 3 Clover Masters.
Disc 2 comes from the Record Plant, LA, August '74, and features many alternate versions and rehearsals, with counted intros and spoken word moments too. 'My Generation' and 'The Kids Are Alright' get aired too, and some are as chaotic as you'd expect from Moon.
Less essential than disc 1, but an interesting insight to Keith Moon and the sessions behind the album.
Very complete, and thoroughly enjoyable. For all Who fans and more.
****
Review by Joe Geesin