KEITH EMERSON Off The Shelf
Castle/Sanctuary CMRCD1305 (2006)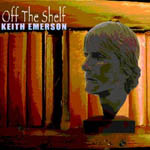 This collection will please many Emerson fans, mixing styles from The Nice and ELP to his solo work, and featuring some rare and previously unreleased material.
Opener 'Abaddon's Bolero Orchestral is a different take on a track originally planned for ELP, and 'Pictures At An Exhibit' is a section from an 80s recording; dark, moody and atmospheric compared to the original ELP live set.
'And Then January' is a solo piano piece, full of emotion, while 'Rio' is a more eclectic Brazilian sounding piece that features drummer Simon Phillips.
Elvis Presley's 'Don't Be Cruel' is one of several covers, there's also interesting (and previously unheard) takes on 'Motor Bikin'' and 'Lumpy Gravy' (the latter recorded by The Nice).
A reworking of 'America' dates from 1986, and features guitarist Pat Travers, a true stand out gem here.
'Up The Elephant And Round The Castle' is an instrumental written for a sitcom featuring Jim Davidson. Classic Emerson piano, but a version with Davidson on vocals was released as a single in 1983 (not here, thankfully) is really best avoided.
The set closes with a cover of 'Sex & Drugs & Rock & Roll', which again features guitarist Pat Travers, with bassist Mo Foster and drummer Cozy Powell – a real gem and a rarity too.
Off The Wall may be a better title but it's a good compilation and a good supplement to all the ELP/Nice compilations around. Good track by track annotation from Emerson too make it very worth while.
****
Review by Joe Geesin