KATIE MELUA 'Call Off The Search (Special Bonus Edition)' (2004)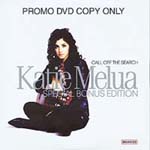 Call Off The Search, Mike 'Womble' Batt's pretty young protégé Katie Melua's debut has been in the charts for much of the year and is destined to be one of the year's top sellers.
So releasing a special bonus edition just in time for the Christmas market could be seen as a cynical marketing ploy. And its not going to please those who have already shelled out. But this special edition features the original CD supplemented by DVD marketed as a full length live concert plus bonus material. Sounds tempting.
Let's take a little closer look. 'Full length concert'. Well, let me tell you I wouldn't be pleased if I paid to see a concert which encompassed only 10 short numbers. The DVD lasts a total of 73 minutes but that includes a fair amount of tour footage interspersed in the live material, plus the videos for The Closest Thing To Crazy, Call Off The Search and Crawling Up A Hill, plus a 'making of' Call Off The Search video feature and Starting Out 2003 (which also features on the CD). So if it was a full concert, it was pretty damn short.
The live footage - shot at Fairfield Halls, Croydon - is pretty good. Beautifully shot (as you might imagine) with plenty of close ups of doe-eyed Katie. And the band is pretty hot too - Mike on piano, Jim Cregan (Cockney Rebel, Rod Stewart) excellent on guitar and Henry Spinetti (Eric Clapton) amongst those old hands playing support.
The material is pretty faithful to the album with the exception of a bit of extra boogie thrown in here and there for good measure. The exception is I Put A Spell On You that far outshines the album version - the band (Cregan in particular) cooking up a storm.
Only two non album tracks feature - I Put A Spell On You and Anniversary Song and continuity is spoilt by the interspersed tour footage.
The other material - the videos, you've probably seen on TV, and yes they're nice enough to have.
At the end of the day, it's probably a decent package if you want to buy the album anyway. But you can see why the DVD wasn't released as a stand-alone product - just not enough content.
For me, this is bastardised jazz for the masses, and pretty as she is, Katie has a pretty 'thin' voice. If jazz-lite is your bag, invest in Norah Jones instead. But if you see Uncle Bulgaria with a smile this Christmas, you'll know what Santa brought him.
***
Review by Pete Whalley