Growing in stature...Karnataka wow them in New Jersey...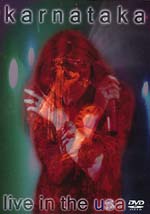 It's nice to see a prog band grow in maturity before your eyes. Karnataka have built a loyal following with their palatable blend of Celtic swirl and prog rock pizazz. This DVD was recorded when the band appeared at a Classic Rock festival in New Jersey in October 2002.
Fans may have already checked out the DVD 'Live In Concert' recorded a year earlier. Comparing the two performances there is a definite growth in musicianship and stagecraft, Anne-Marie Helder now pushed forward with Rachel Jones to provide an engaging twin-female front. Anne's flute still seems a little shaky and delicate, but the rest of the band deliver. Paul Davies on guitar deserves special mention with a very lyrical style well displayed on "The Storm" whilst Jonathan Edwards on keys provides an absorbing variety of synth textures, the perfect canvas.
Somewhat disappointing is the set list, which almost duplicates the earlier DVD. But fans and lovers of contemporary prog won't be deterred and newcomers would do well to look in, to see what all the fuss is about.
****

Album Review
Review by David Randall
© 2003 All rights reserved.