KARINE POLWART Scribbled In Chalk
Spit & Polish/Shoeshine Records (2006)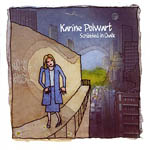 Scotland's Karine Polwart came from leftfield to sweep the board at last year's Radio 2 Folk Awards winning Best Album, Best Original Song and Best Emerging Artist awards with her debut album Faultlines. But at 34, Karine is no newcomer, having served her apprenticeship in a number of traditional folk/roots bands such as Battlefield Band and Malinky.
So the question is, can her follow-up Scribbled In Chalk overcome the difficult 'second album' syndrome? Like Faultlines, Scribbled In Chalk serves up a mix of roots and semi-mainstream by adding just a hint of pop to the mix, despite the serious lyrical content, which explores the likes of twentieth century genocide, TV executions and sex trafficking.
The album opens with the stunningly beautiful and simple Hole In The Heart. Karine's vocals – somewhere between early Joni Mitchell and Maddy Prior – supplemented by strings, some cultured accordion and lead guitar work.
I'm Gonna Do It All Someday is an infectious roots number that morphs into something Everything But The Girl would have been proud of. Daisy, Holy Moses, and Take It's Own Time are delicate folk numbers with Karine's pure voice to the fore over subtle accompaniments. Again there's some tremendously effective accordion playing.
Maybe There's A Road and Where The Smoke Blows have an almost transatlantic feel and could be early Joni Mitchell. The single I've Seen It All - a moving melancholy lament about the futility of war - has almost Suzanne Vega overtones.
Baleerie Baloo is a mournful lament, Terminal Star a beautiful shimmering number that would sound wonderful in the hands of Annie Lennox, and Follow The Heron closes proceedings with a traditional piece originally recorded by Malinky.
The album is already attracting plaudits from the likes of Mojo, The Times and Uncut. And's easy to see why. Scribbled In Chalk is a beautifully constructed mix of roots and folk and a worthy successor to Faultlines. More awards will undoubtedly follow.
***½
Review by Pete Whalley