JUDY DYBLE Enchanted Garden
Talking Elephant TECD068 (2004)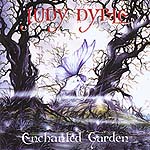 Some years back, I owned a vinyl sampler that included Fairport Convention's debut single, 'If I Had A Ribbon Bow'. Lovely little song from around 1968 and with the clear and ringing voice of the late, great Sandy Denny making her mark.
Except it wasn't, it was Judy Dyble.
Though no slouch in the pipes department herself, Judy was pushed out of the band and went off to form Trader Horne with Jackie McAuley and make their one (rather good) album, "Morning Way".
A spell with the nascent King Crimson in its Giles, Giles & Fripp entity was short-lived and sadly she disappeared from the scene but for sporadic appearances at Fairport's annual Cropredy Festival.
Now she's back, and in common with many artists from that period who are still working, she's doing something 'new'.
With quasi-Arthur Rackham faeries and elves artwork and a performer roster including former High Tide and Hawkwind violinist Simon House (yikes!), I imagined we were here in for something akin to the fiery 'acid folk' temp-plated by ex- Curved Air vocalist Sonja Kristina.
Yet while there are elements of this psych-offshoot in 'Enchanted Garden', they are laced into the sonic landscape of New Age, and it's in this matching that the album begins to flag.
It's proficiently packaged and presented but the raw material is not consistently strong enough to make the wade through the electronica, which begins to swamp the performers. House's violin seems to have wandered off the mix while Judy's vocal is in a state of permanent reverb - a dish best served on special occasions.
After a while, the whoosh, plink, plunk, tinkle of keyboard programming began to take me on an astral voyage to shops that sell dream-catchers and wind chimes and smell like detonated bath-bombs.
Raiding the studio FX cupboard didn't work for the Quintessence 'comeback' album and it's not working here. Time to warm up, not chill out.
An acoustic set by Judy Dyble would help her work a passage back to fans of folk rock far more effectively and suit her voice better.
**
Review by Peter Muir

Summer Gathers
© 2005 Talking Elephant. All rights reserved.