JUDAS PRIEST
'Angel Of Retribution' Sony 519300-2 (2005)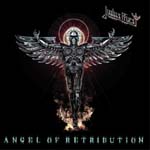 The Priest are back, with a vengeance. This new album sees the much anticipated, predicted and perhaps even inevitable return of Rob Halford. And this album sees Robís return to form as much as the bandís. Mainstays Tipton, Downing and Hill, with drummer Travis are back on top.
Although this goes a long way to recreating former glories in an updated sense, you canít expect to continue from Painkiller as if nothing has happened. Anyone who does is surely misguided and living in the past. You simply cannot forget the years with Ripper Owens and the magnificent job he did. Why? Because the solid, doomy heaviness mixed with modern production that distinguished the Ripper era remains a sound within the band.
But onto this new era. And what a wonderful sound it is. This new album mixes a nod back to the glory days with a whole new sound.
Opener 'Judas Rising' grabs you by the throat and is utter classic Priest, pure and simple. 'Deal With The Devil' is a catchy banger that harks back to 'Breaking The Law', only with a far more solid sound. And the opening chords to 'Revolution' nod at Sabbath. Itís all good stuff.
Later on the album takes a bit of a melodic edge, which is no bad thing. That said, 'Demonizer' is suitably demonic and 'Wheels Of Fire' is mid 80s Priest at their heaviest and best.
The album finishes with the epic 'Lochness', a long epic about the Scottish legend. While this was slated in Classic Rock magazine, itís a bold move, brave and thoroughly enjoyable. Itís a far cry from the typical JP sound of old, but the solos and vocals are all up to the usual top standard. Face it, the band have moved on in sound, writing and production. If fans and critics do too, this album should be the rip roaring success it deserves to be.
*****
Review by Joe Geesin